Welcome to Rose Garden Health
Rose Garden Health was designed to provide relief from pain and discomfort while promoting an active and healthy lifestyle. Our services offer advanced, highly effective techniques that focus on getting our patients moving their best!
Welcome to Rose Garden Health
Rose Garden Health was designed to provide relief from pain and discomfort while promoting an active and healthy lifestyle. Our services offer advanced, highly effective techniques that focus on getting our patients moving their best!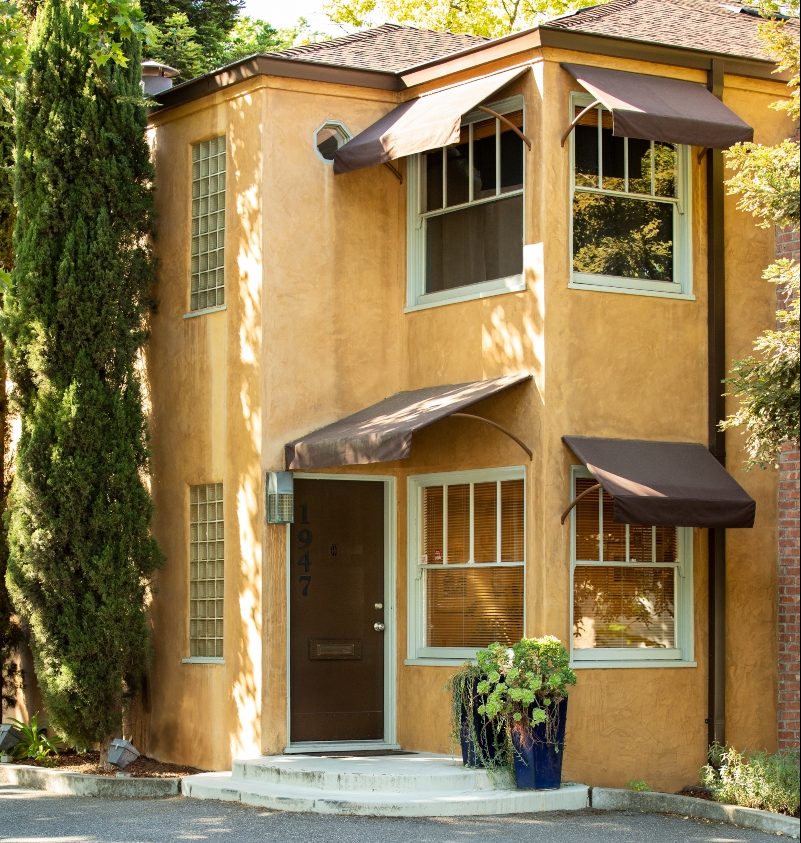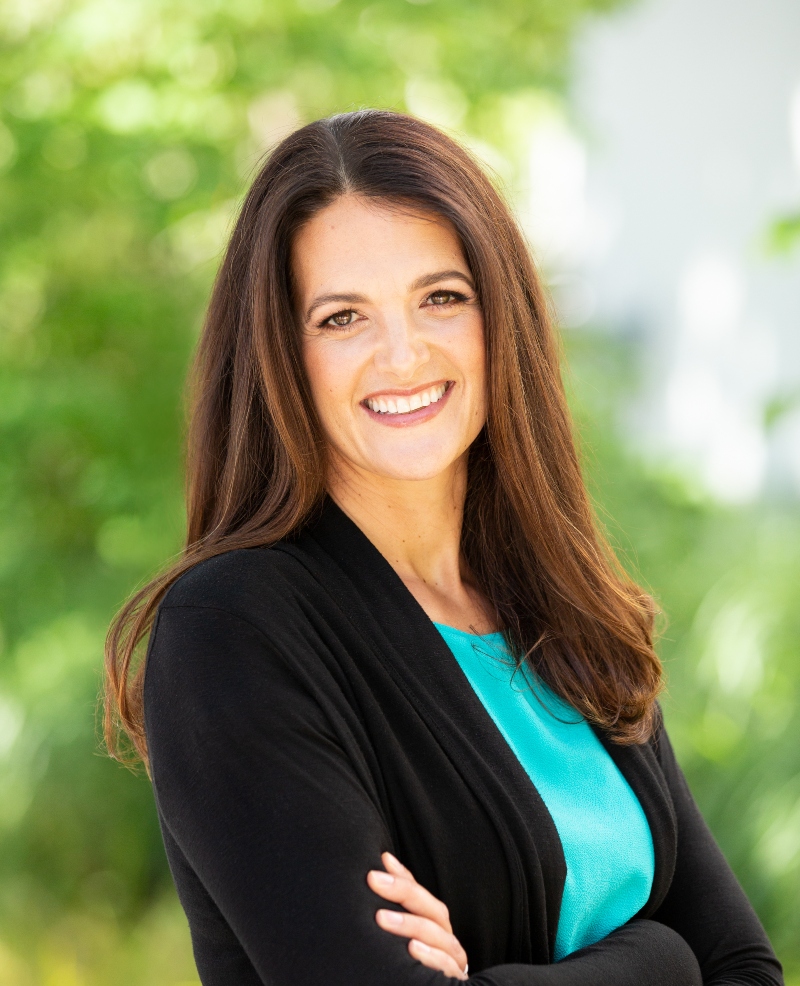 Dr. Bianchi graduated from Palmer College of Chiropractic West in 2004 and shortly after opened Rose Garden Health as a place to provide chiropractic care using advanced and highly effective techniques that focus on getting patients pain-free and allow them to be as active as possible. She has been a certified Active Release Technique provider for over ten years and uses it along with Chiropractic care, Kinesiology taping (RockTape), Deep Tissue Laser Therapy™ and Graston Technique to increase mobility and decrease muscle and joint pain.
Dr. Bianchi personally sponsors and has supported many local charities and organizations including The Mermaid Series, San Jose Fit, Relay for Life, The Avon Walk for Breast Cancer, Jenny's Light, The Sharks Foundation, and Bike MS. She has coached young athletes as part of the Mini Mermaid Running Club and been an Ambassador to Bianchi Bicycles. Her patients continue to inspire her to climb more mountains, participate in more races and cycle as much as possible. She is currently training on her bike for her next summit!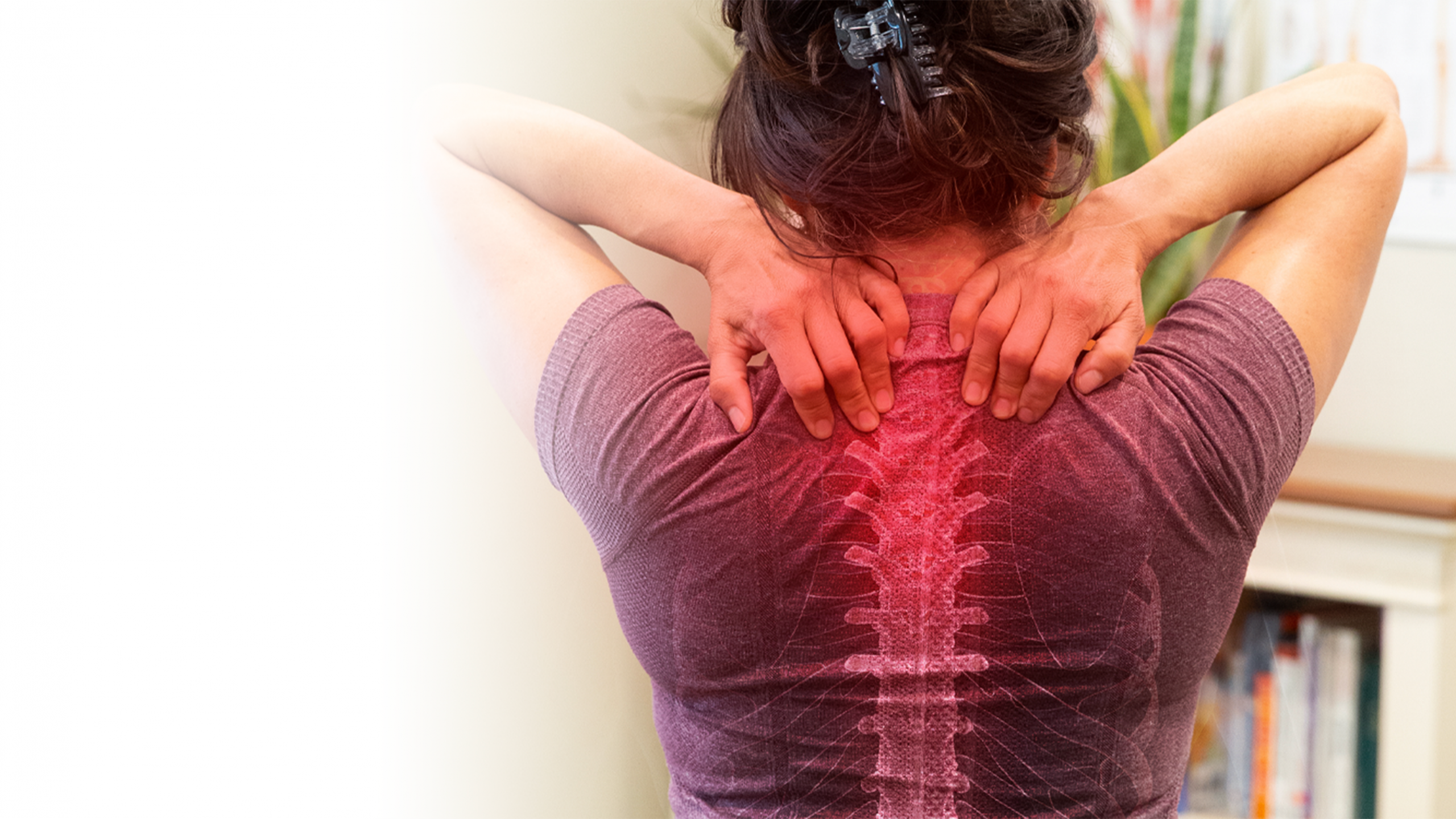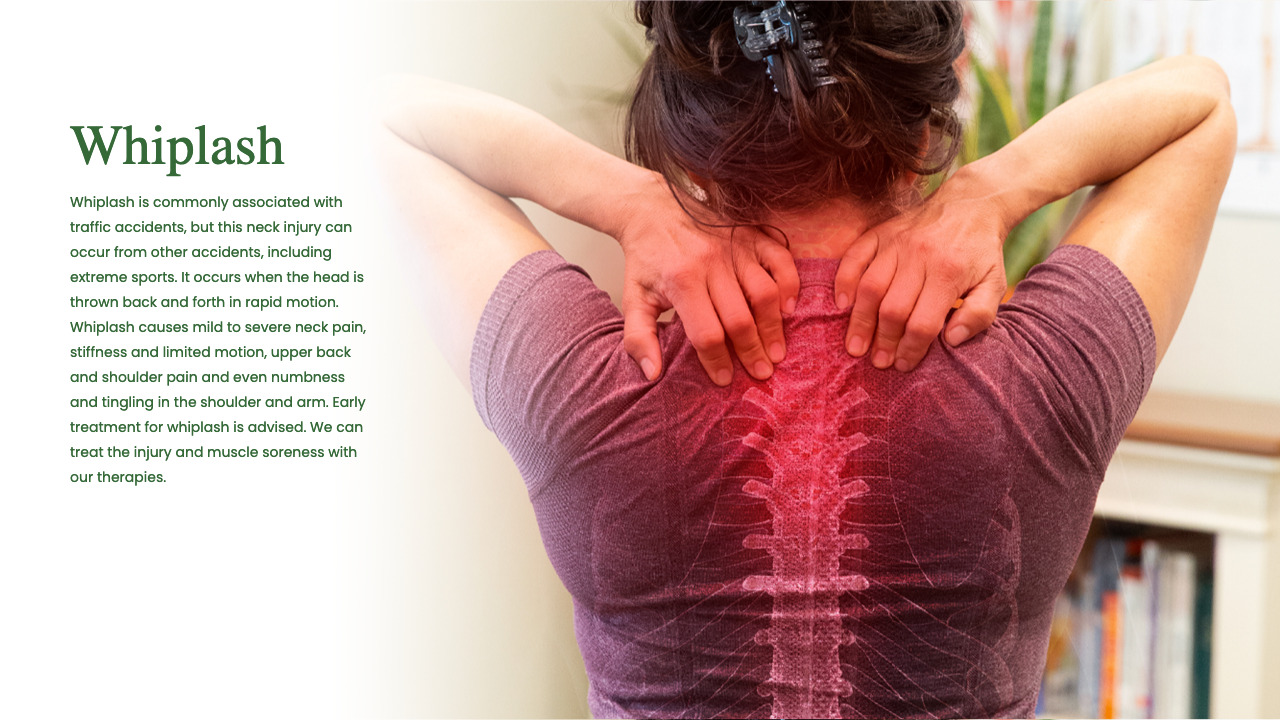 Whiplash
Whiplash is commonly associated with traffic accidents, but this neck injury can occur from other accidents, including extreme sports. It occurs when the head is thrown back and forth in rapid motion. Whiplash causes mild to severe neck pain, stiffness and limited motion, upper back and shoulder pain and even numbness and tingling in the shoulder and arm. Early treatment for whiplash is advised. We can treat the injury and muscle soreness with our therapies.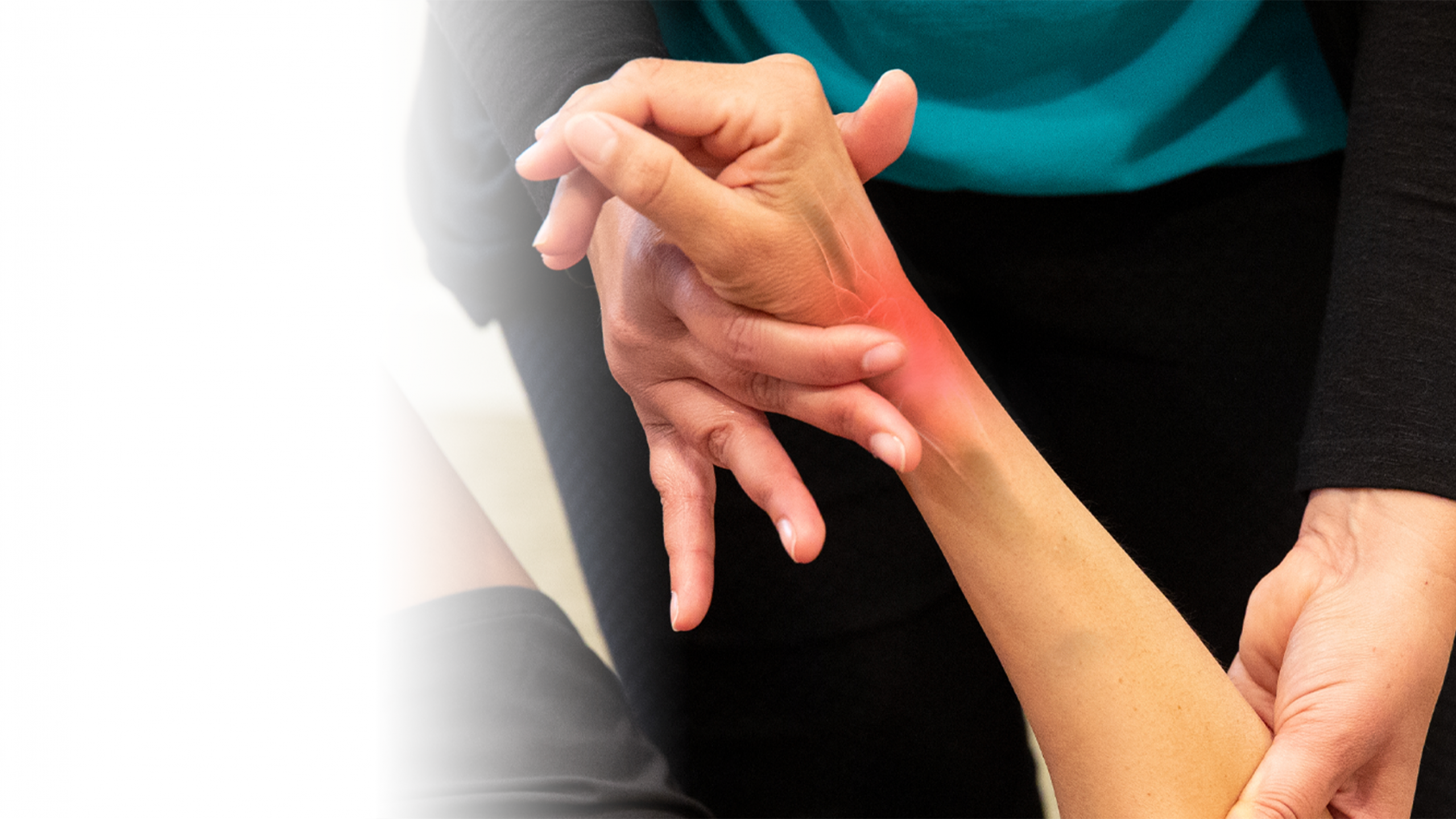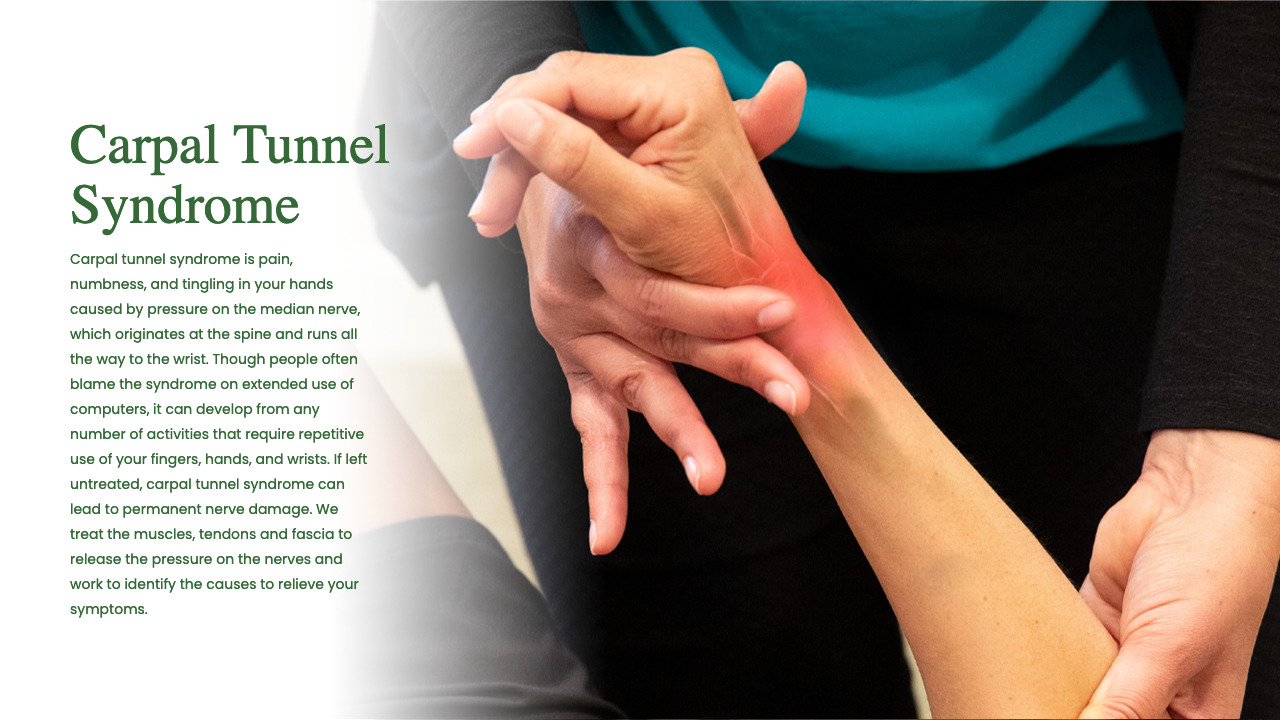 Carpal Tunnel Syndrome
Carpal tunnel syndrome is pain, numbness, and tingling in your hands caused by pressure on the median nerve, which originates at the spine and runs all the way to the wrist. Though people often blame the syndrome on extended use of computers, it can develop from any number of activities that require repetitive use of your fingers, hands, and wrists. If left untreated, carpal tunnel syndrome can lead to permanent nerve damage. We treat the muscles, tendons and fascia to release the pressure on the nerves and work to identify the causes to relieve your symptoms.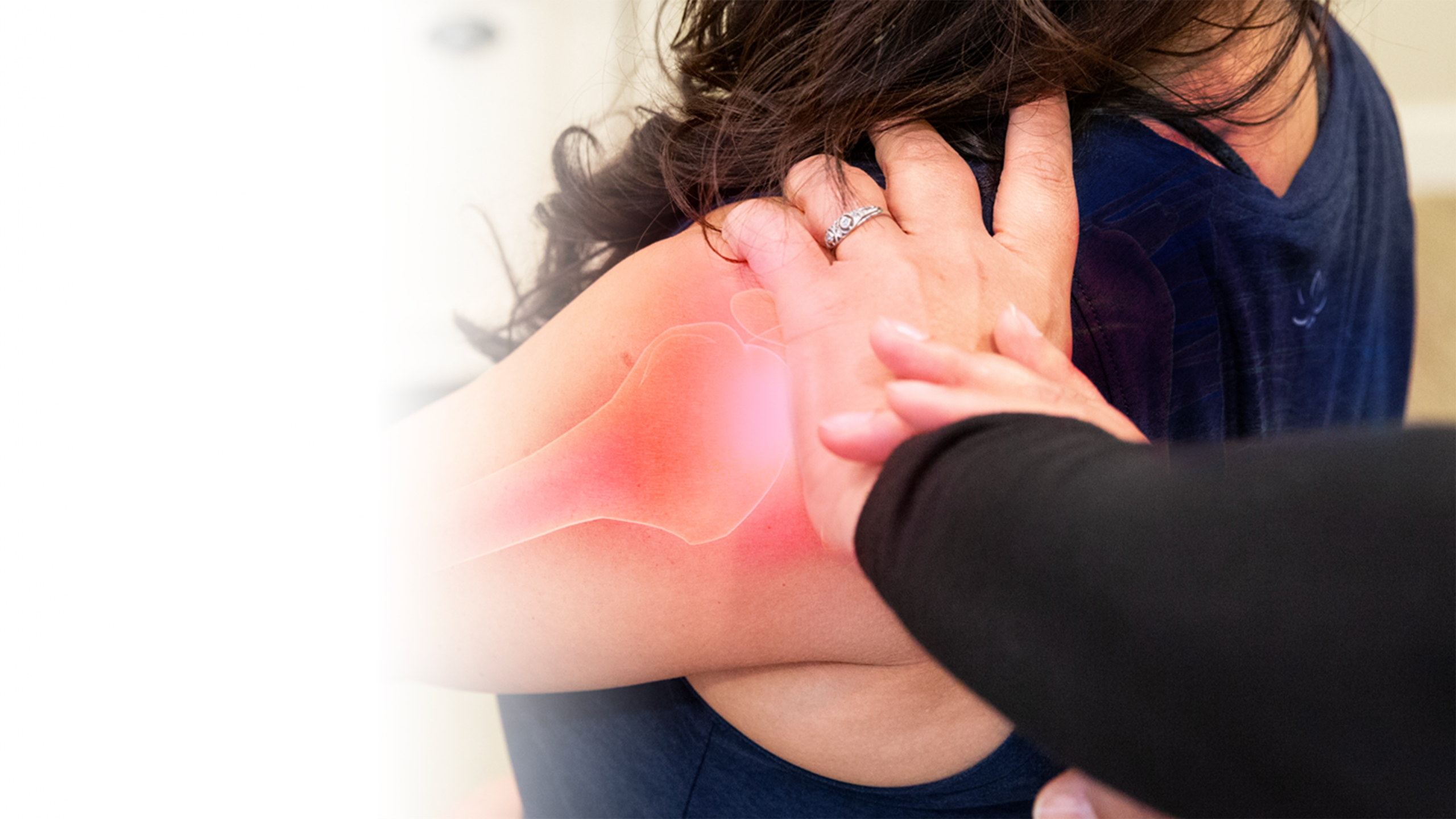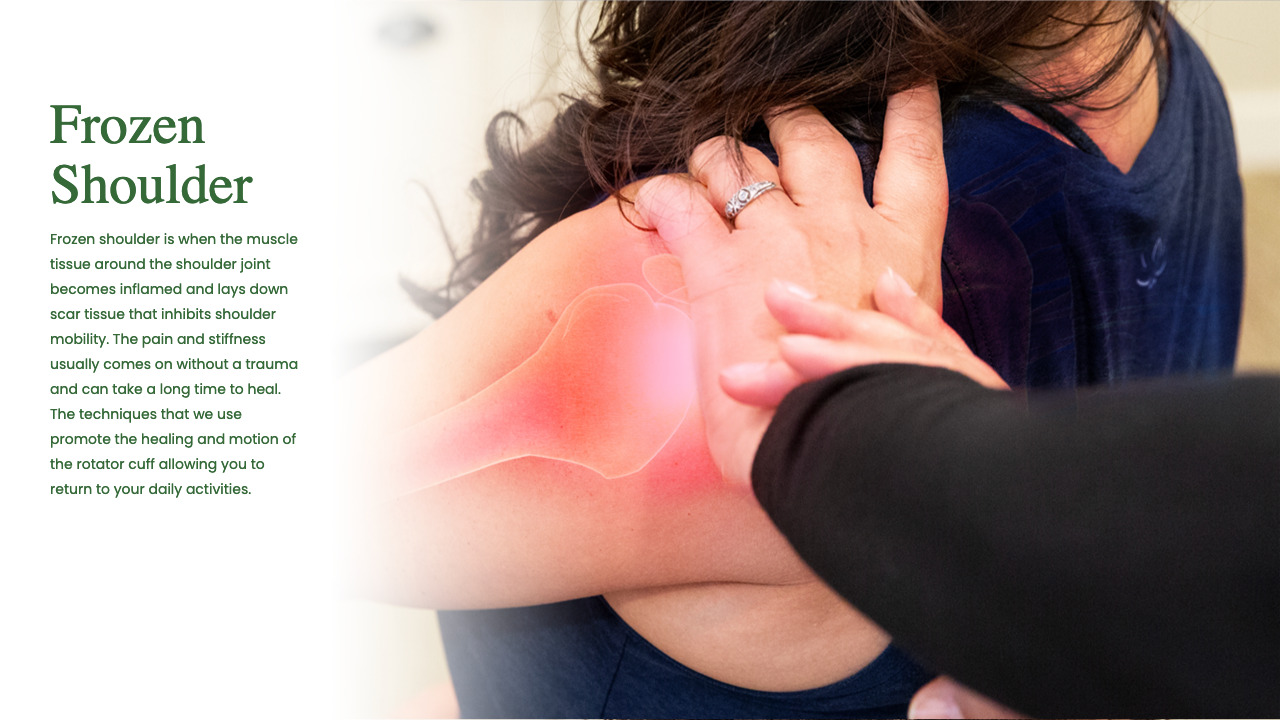 Frozen shoulder is when the muscle tissue around the shoulder joint becomes inflamed and lays down scar tissue that inhibits shoulder mobility. The pain and stiffness usually comes on without a trauma and can take a long time to heal. The techniques that we use promote the healing and motion of the rotator cuff allowing you to return to your daily activities.
Frozen Shoulder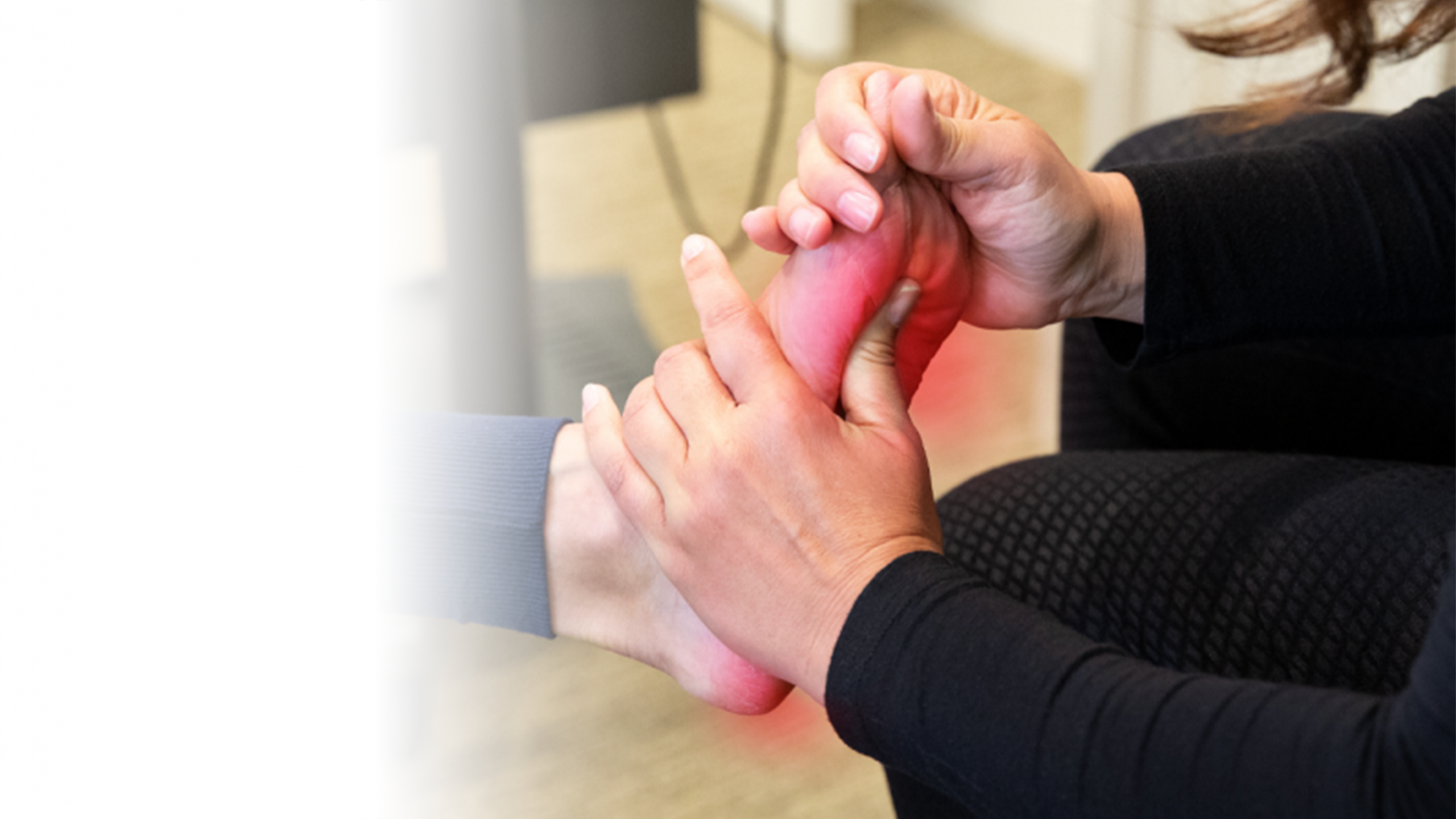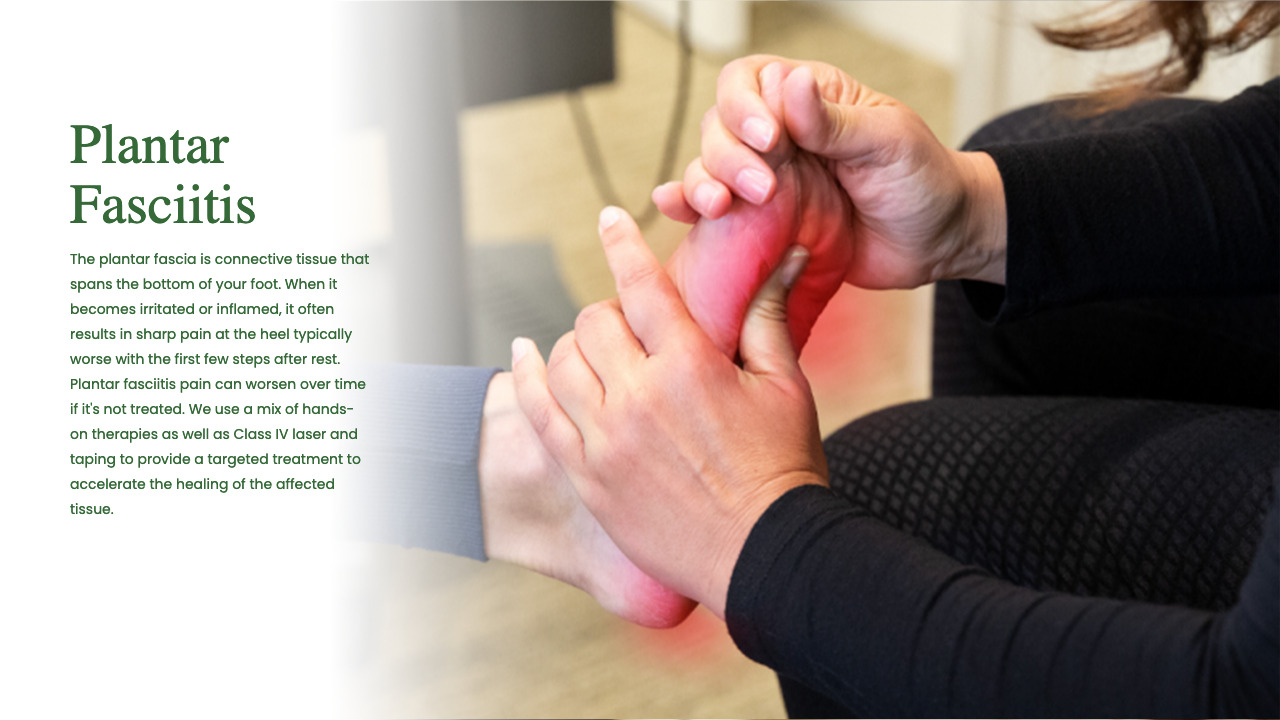 The plantar fascia is connective tissue that spans the bottom of your foot. When it becomes irritated or inflamed, it often results in sharp pain at the heel typically worse with the first few steps after rest. Plantar fasciitis pain can worsen over time if it's not treated. We use a mix of hands-on therapies as well as Deep Tissue Laser Therapy™ and taping to provide a targeted treatment to accelerate the healing of the affected tissue.
Plantar Fasciitis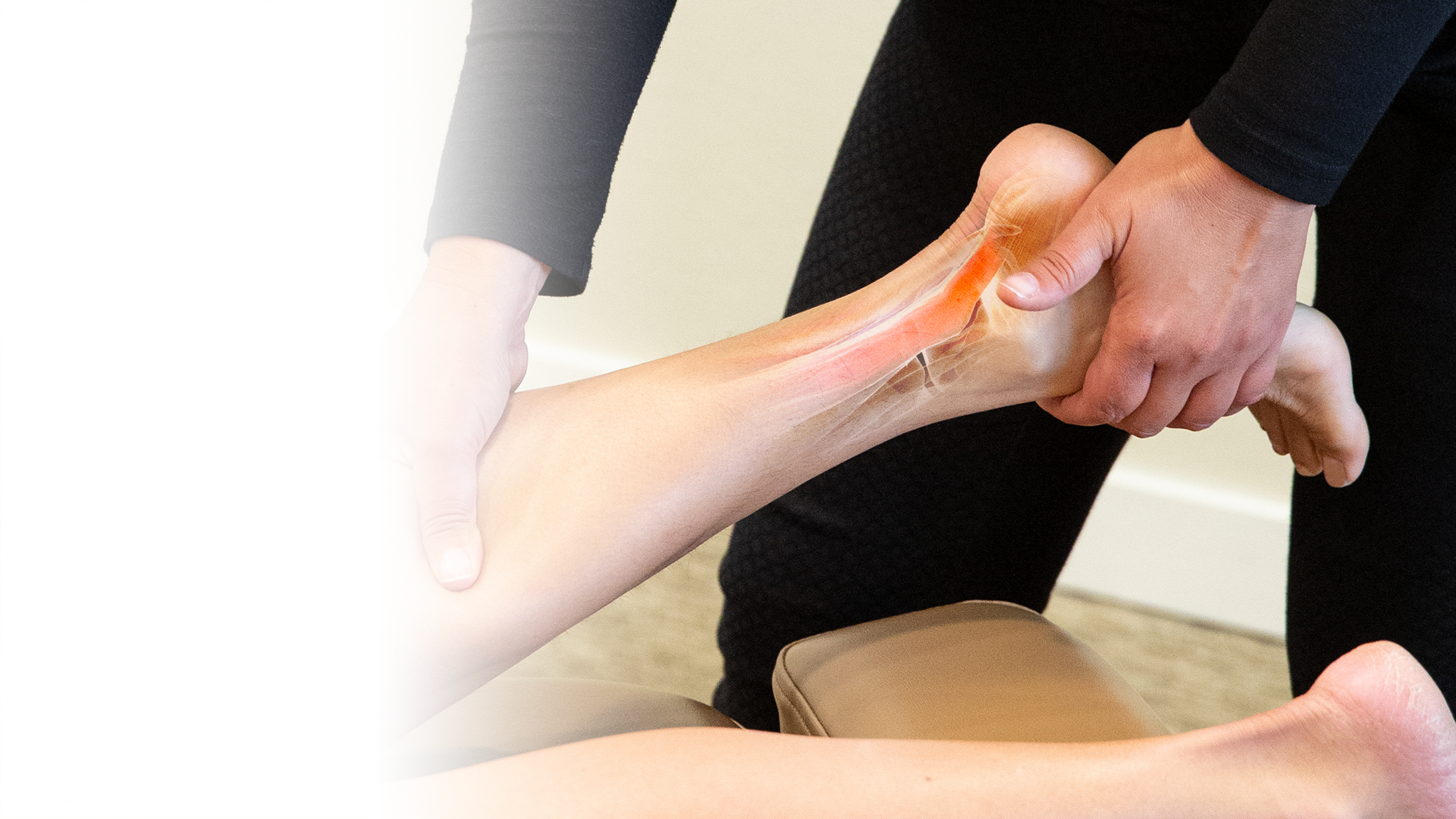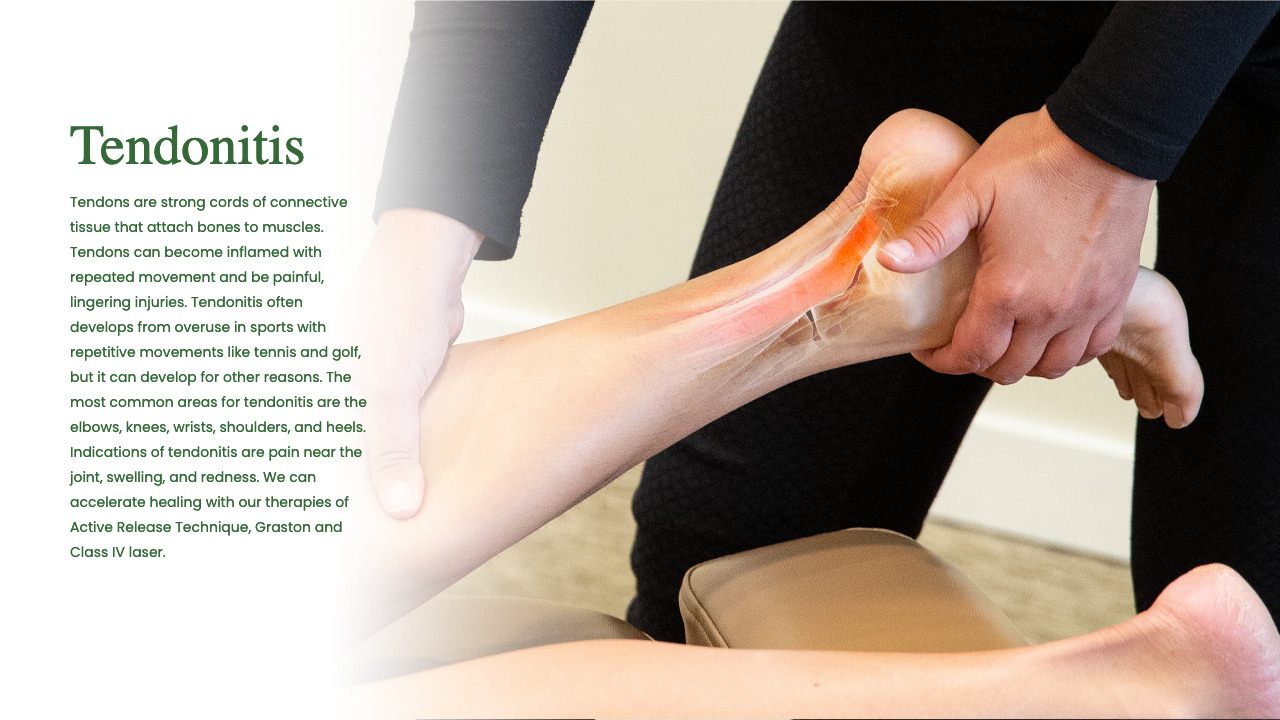 Tendonitis
Tendons are strong cords of connective tissue that attach bones to muscles. Tendons can become inflamed with repeated movement and be painful, lingering injuries. Tendonitis often develops from overuse in sports with repetitive movements like tennis and golf, but it can develop for other reasons. The most common areas for tendonitis are the elbows, knees, wrists, shoulders, and heels. Indications of tendonitis are pain near the joint, swelling, and redness. We can accelerate healing with our therapies of Active Release Technique, Graston and Deep Tissue Laser Therapy™.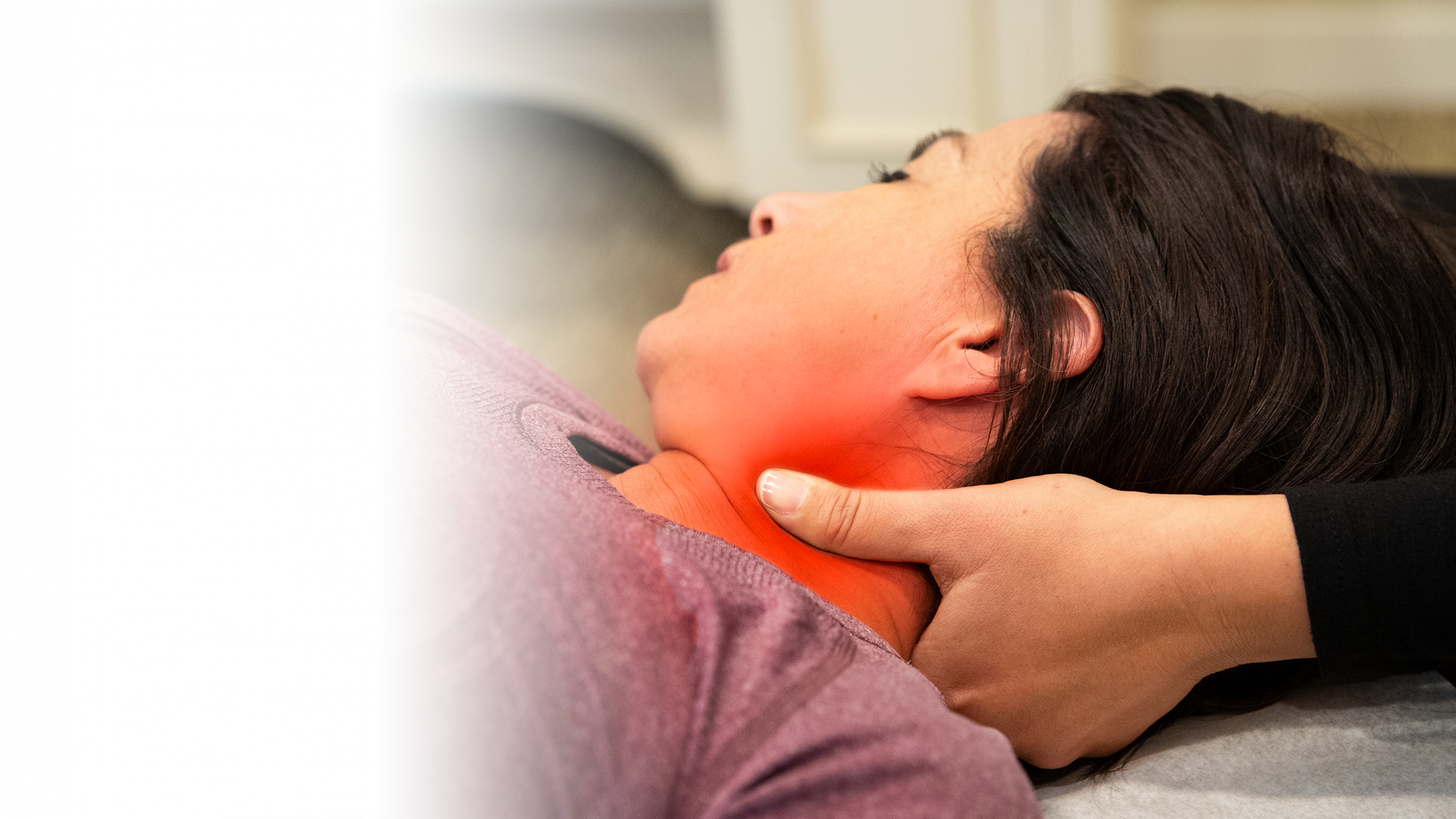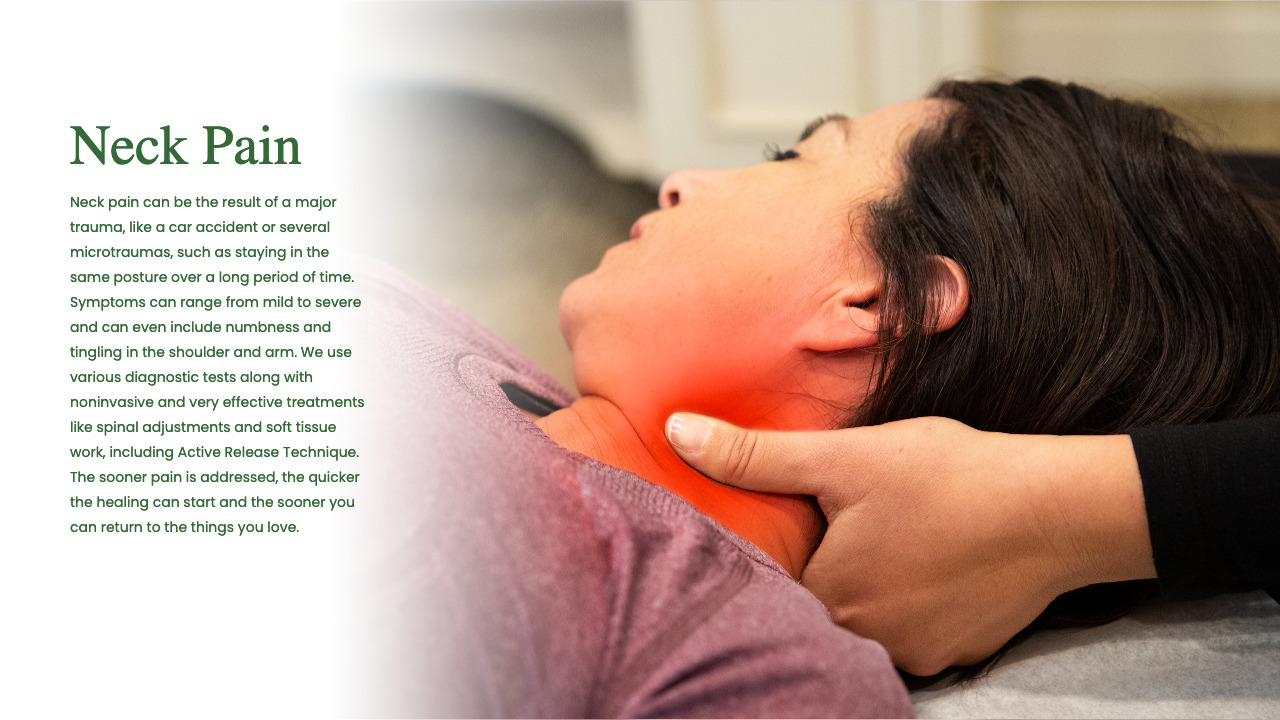 Neck pain can be the result of a major trauma, like a car accident or several microtraumas, such as staying in the same posture over a long period of time. Symptoms can range from mild to severe and can even include numbness and tingling in the shoulder and arm. We use various diagnostic tests along with noninvasive and very effective treatments like spinal adjustments and soft tissue work, including Active Release Technique. The sooner pain is addressed, the quicker the healing can start and the sooner you can return to the things you love.
Neck Pain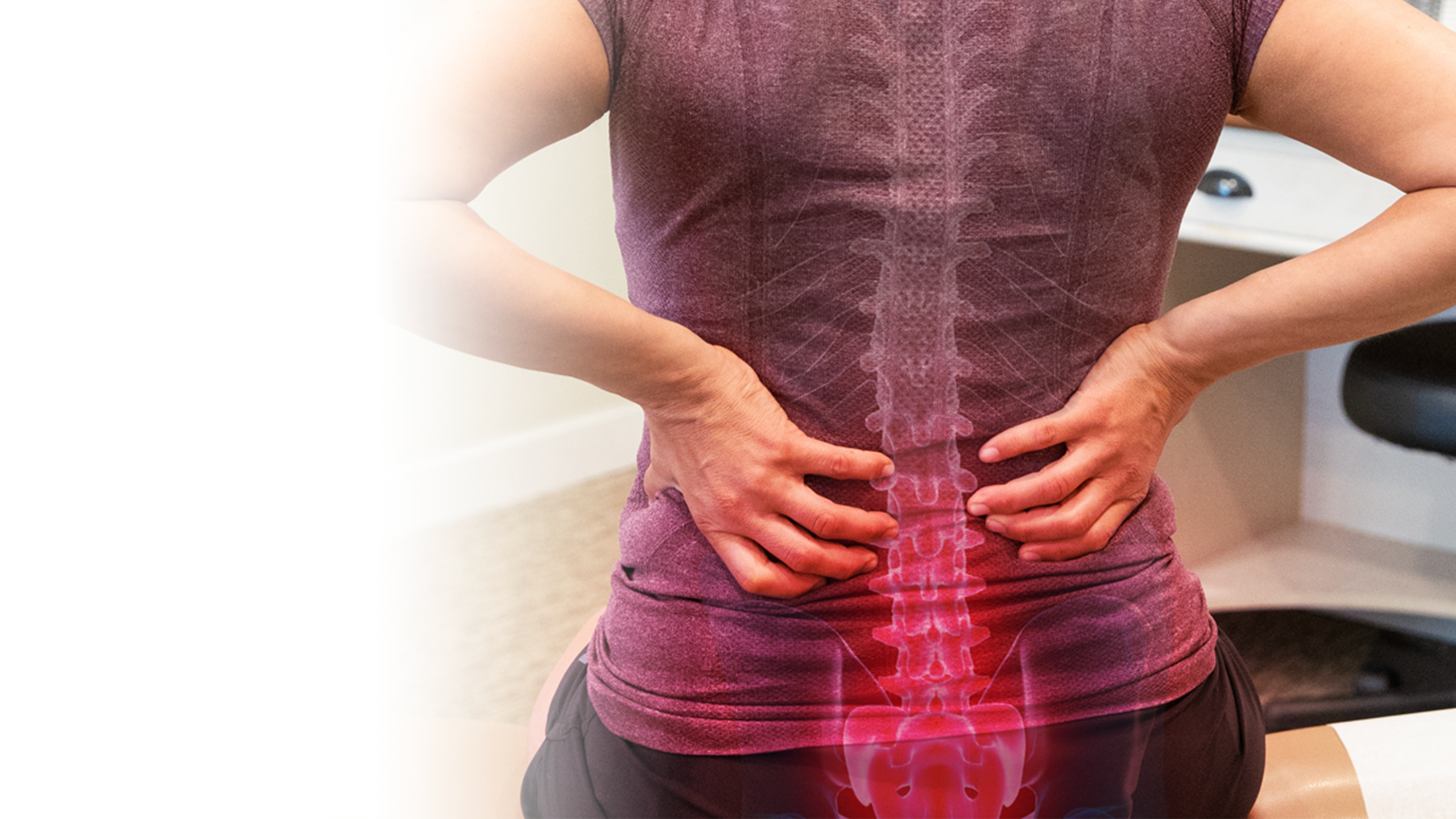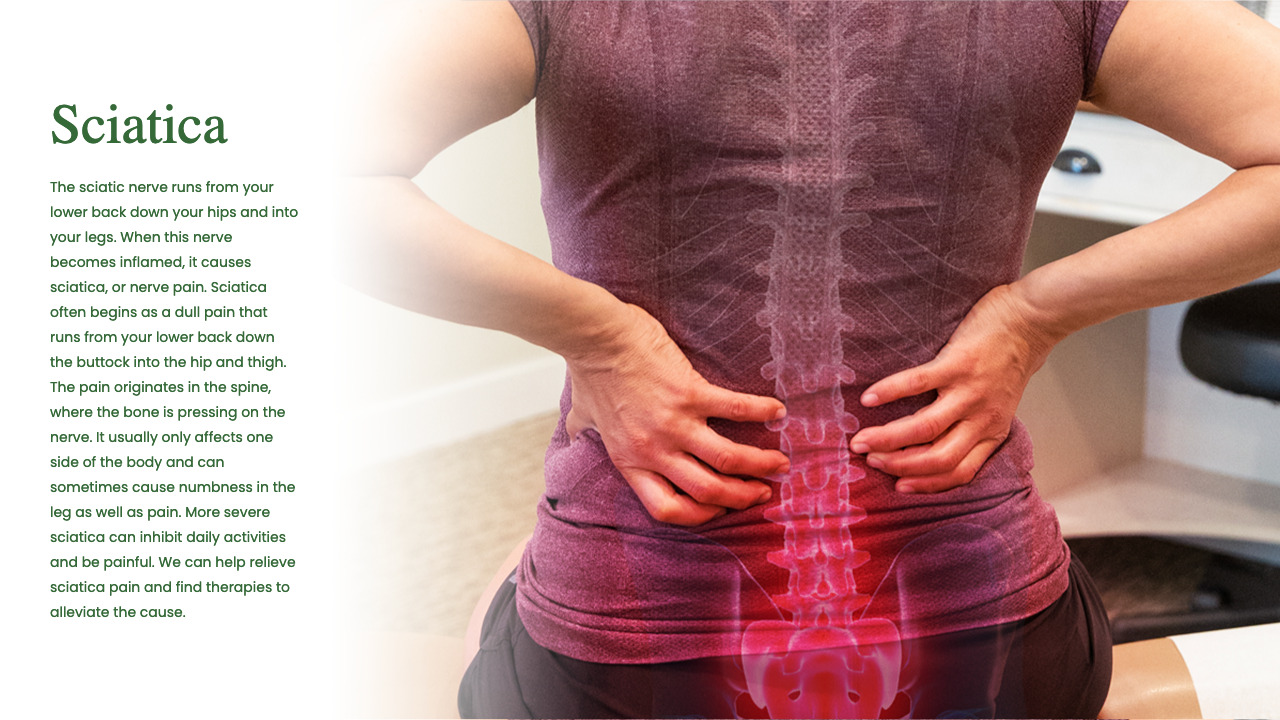 Sciatica
The sciatic nerve runs from your lower back down your hips and into your legs. When this nerve becomes inflamed, it causes sciatica, or nerve pain. Sciatica often begins as a dull pain that runs from your lower back down the buttock into the hip and thigh. The pain originates in the spine, where the bone is pressing on the nerve. It usually only affects one side of the body and can sometimes cause numbness in the leg as well as pain. More severe sciatica can inhibit daily activities and be painful. We can help relieve sciatica pain and find therapies to alleviate the cause.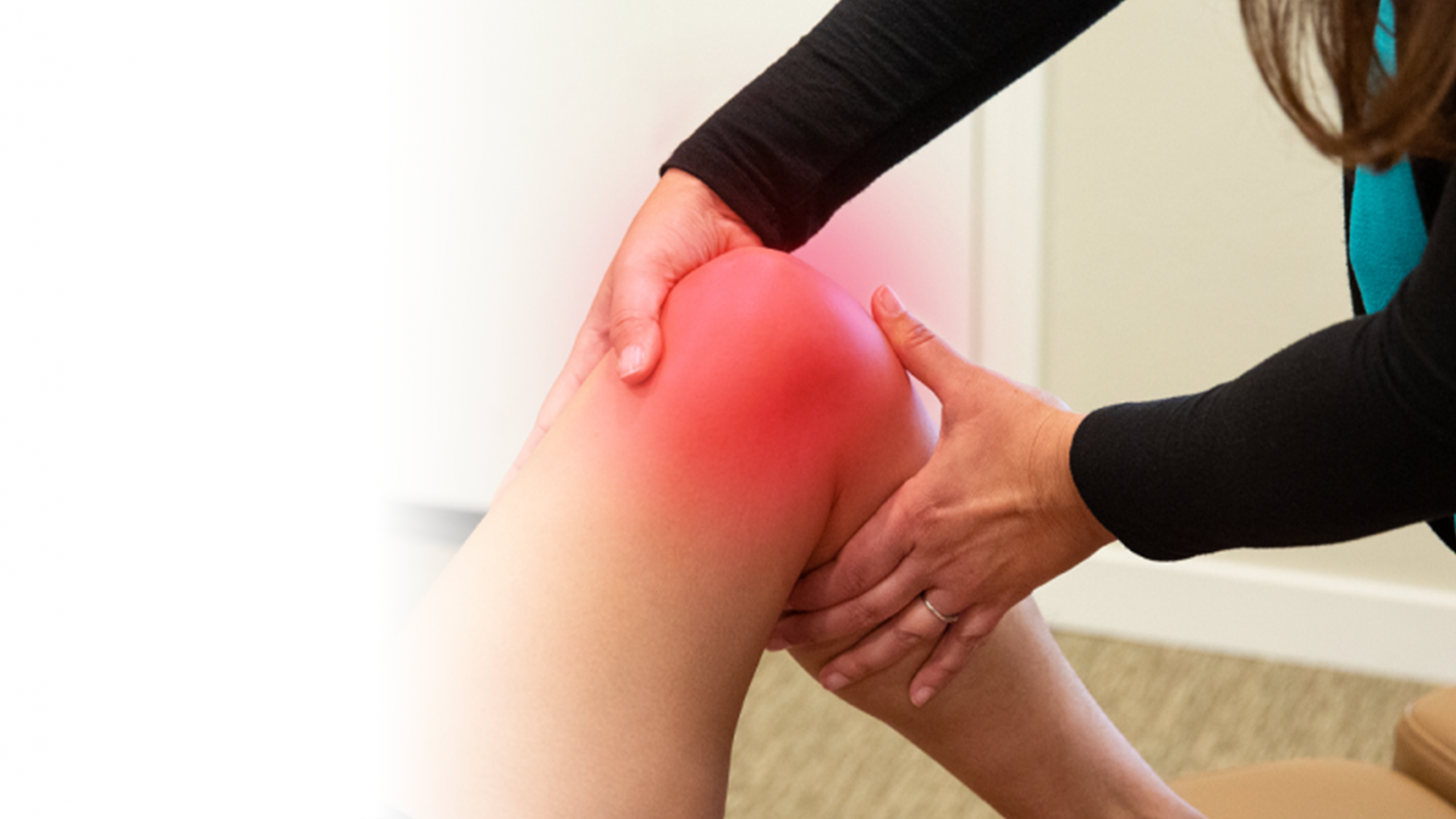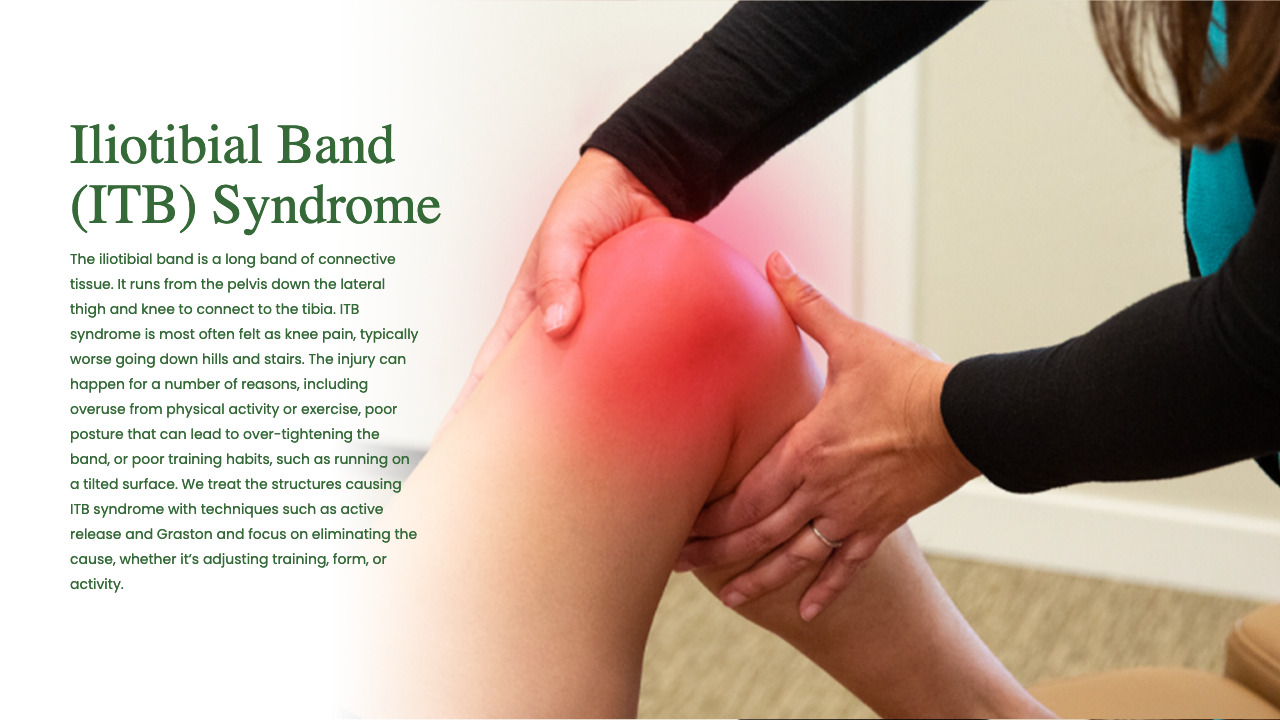 Iliotibial Band (ITB) Syndrome
The iliotibial band is a long band of connective tissue. It runs from the pelvis down the lateral thigh and knee to connect to the tibia. ITB syndrome is most often felt as knee pain, typically worse going down hills and stairs. The injury can happen for a number of reasons, including overuse from physical activity or exercise, poor posture that can lead to over-tightening the band, or poor training habits, such as running on a tilted surface. We treat the structures causing ITB syndrome with techniques such as active release and Graston and focus on eliminating the cause, whether it's adjusting training, form, or activity.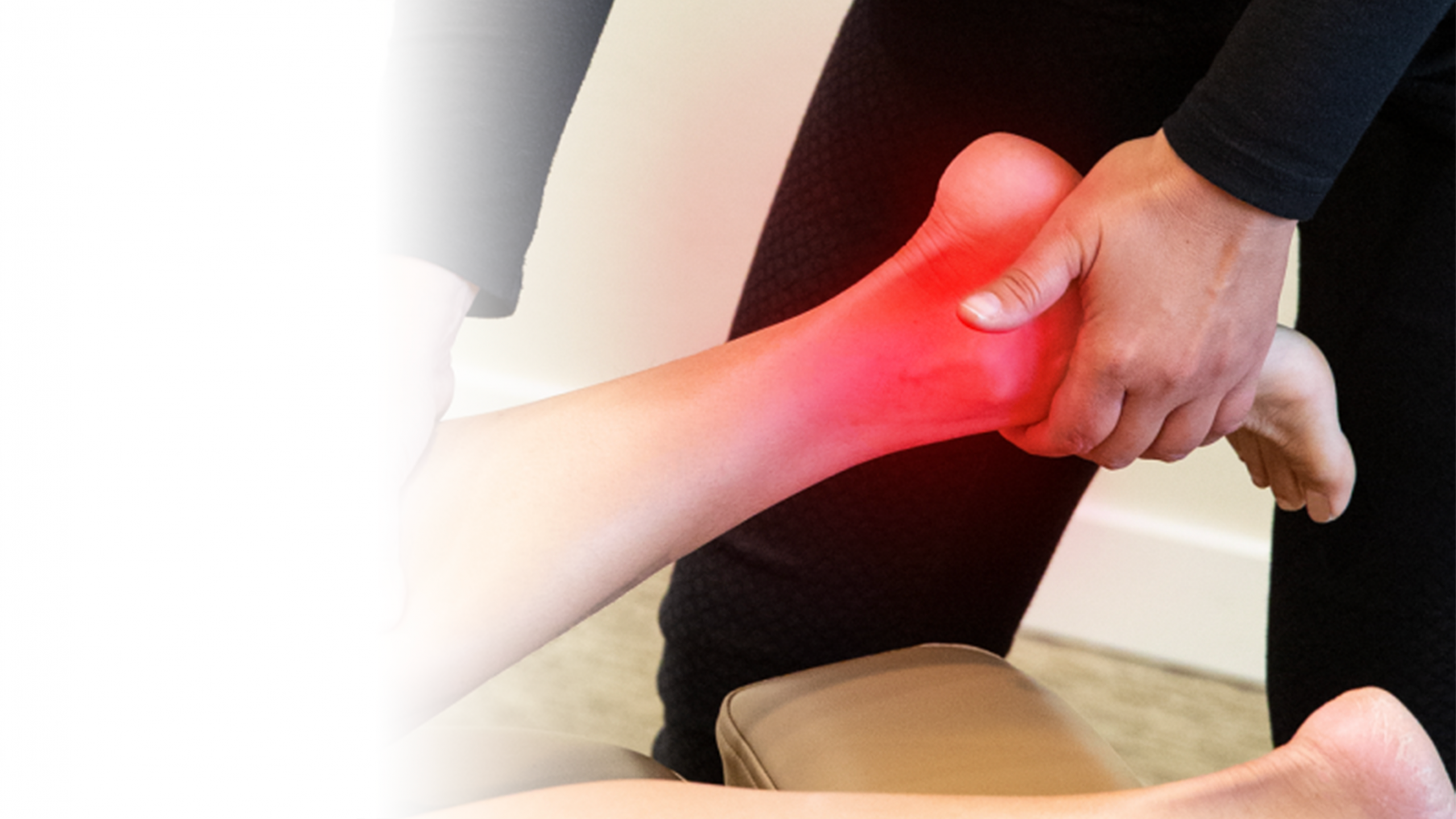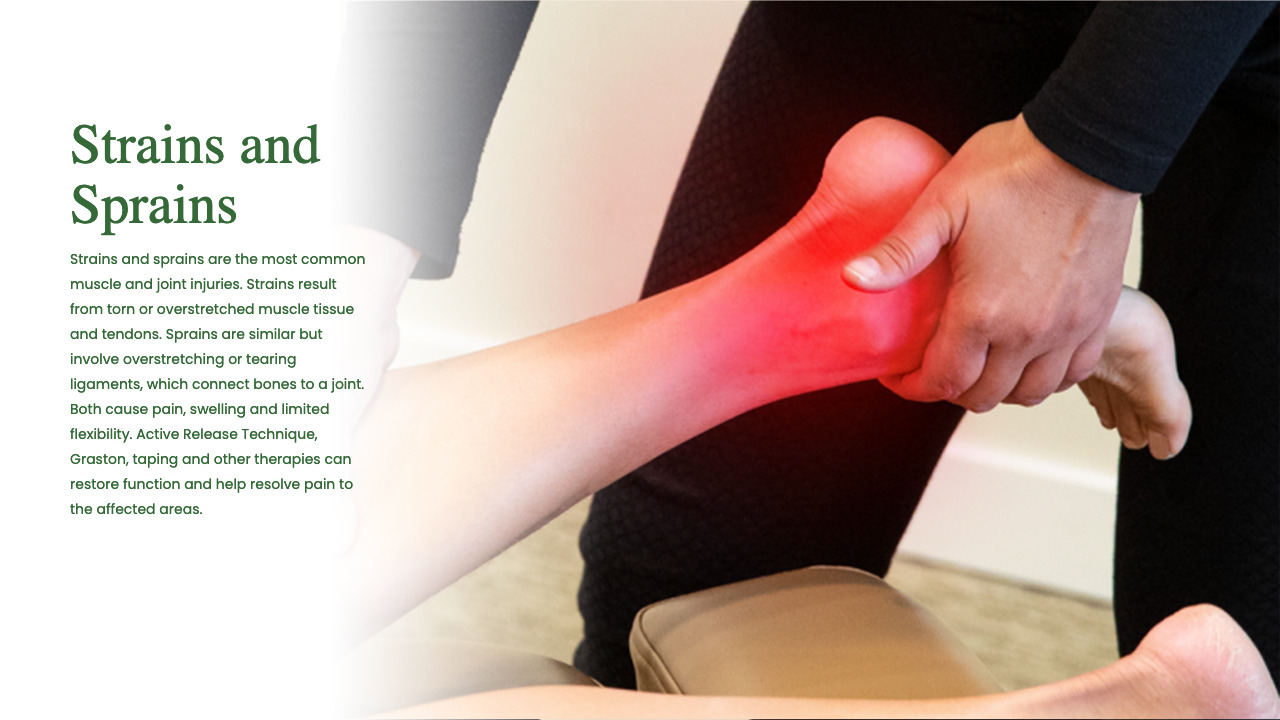 Strains and Sprains
Strains and sprains are the most common muscle and joint injuries. Strains result from torn or overstretched muscle tissue and tendons. Sprains are similar but involve overstretching or tearing ligaments, which connect bones to a joint. Both cause pain, swelling and limited flexibility. Active Release Technique, Graston, taping and other therapies can restore function and help resolve pain to the affected areas.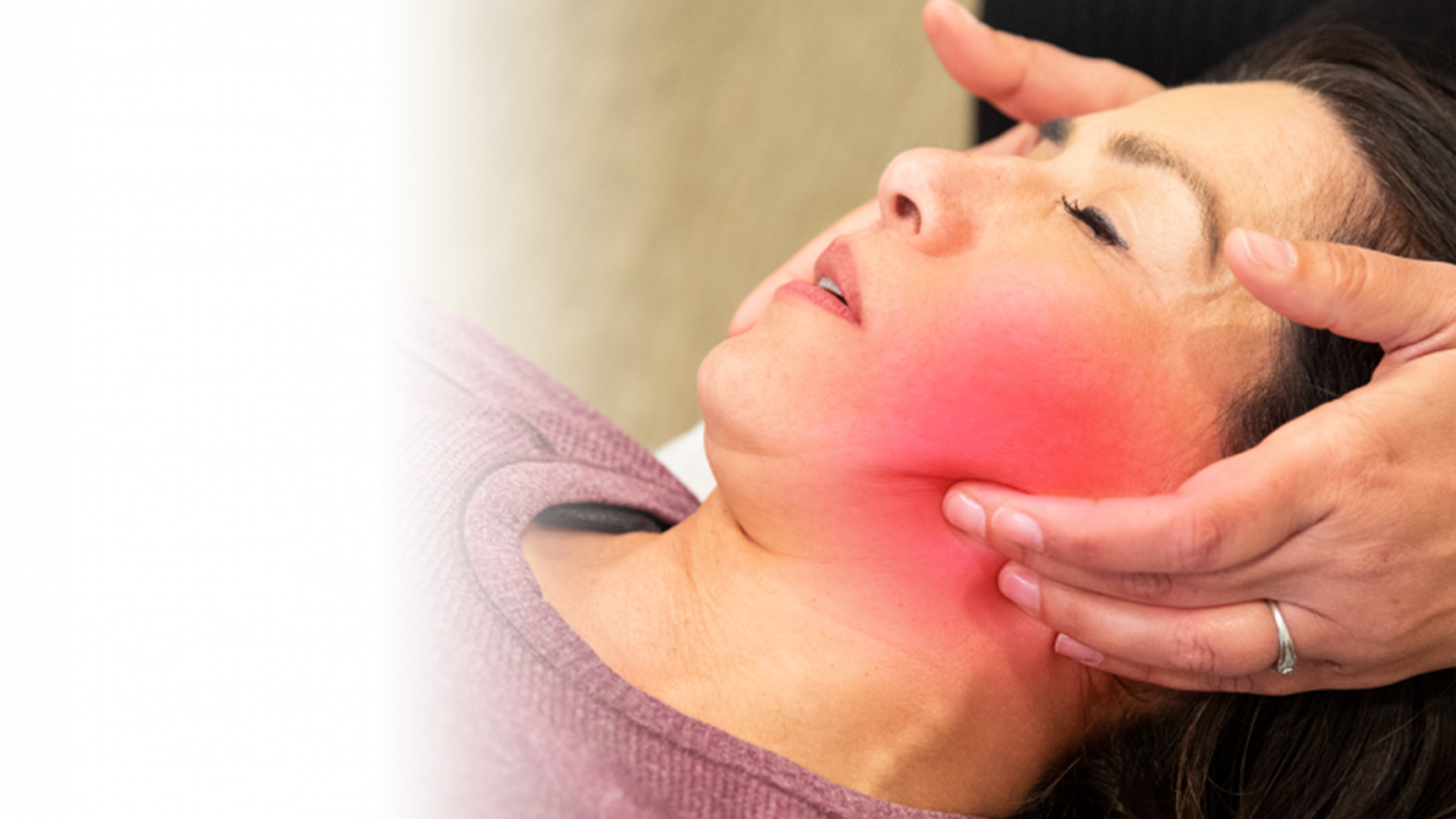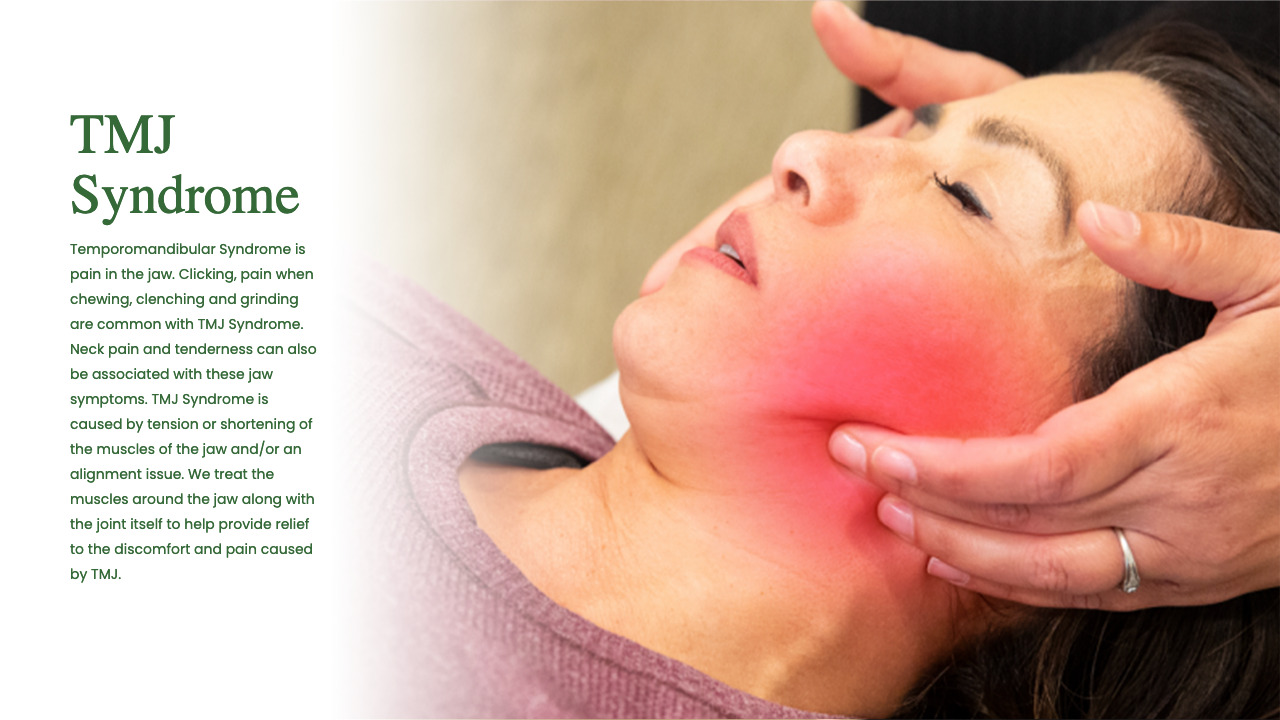 TMJ Syndrome
Temporomandibular Syndrome is pain in the jaw. Clicking, pain when chewing, clenching and grinding are common with TMJ Syndrome. Neck pain and tenderness can also be associated with these jaw symptoms. TMJ Syndrome is caused by tension or shortening of the muscles of the jaw and/or an alignment issue. We treat the muscles around the jaw along with the joint itself to help provide relief to the discomfort and pain caused by TMJ.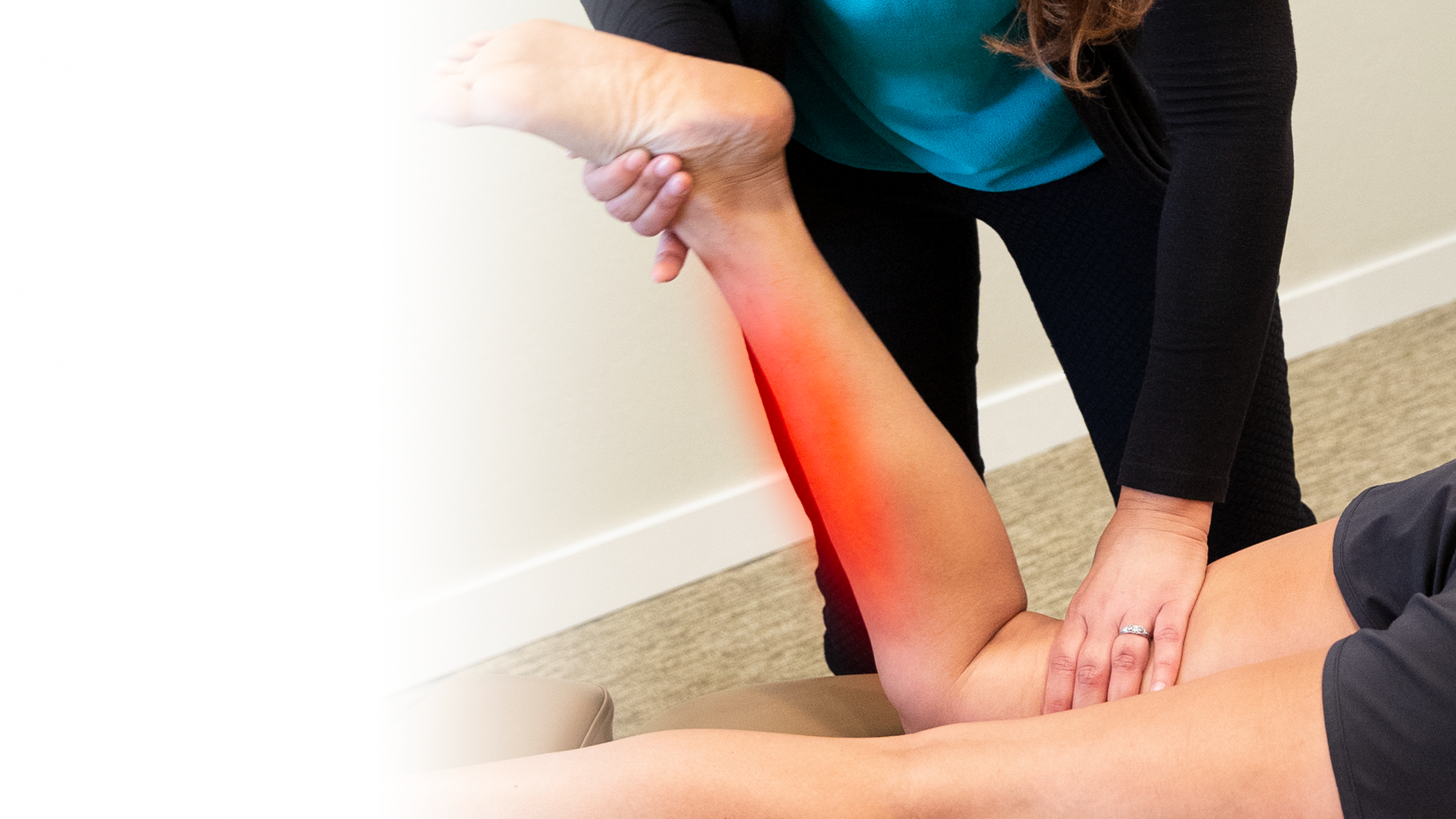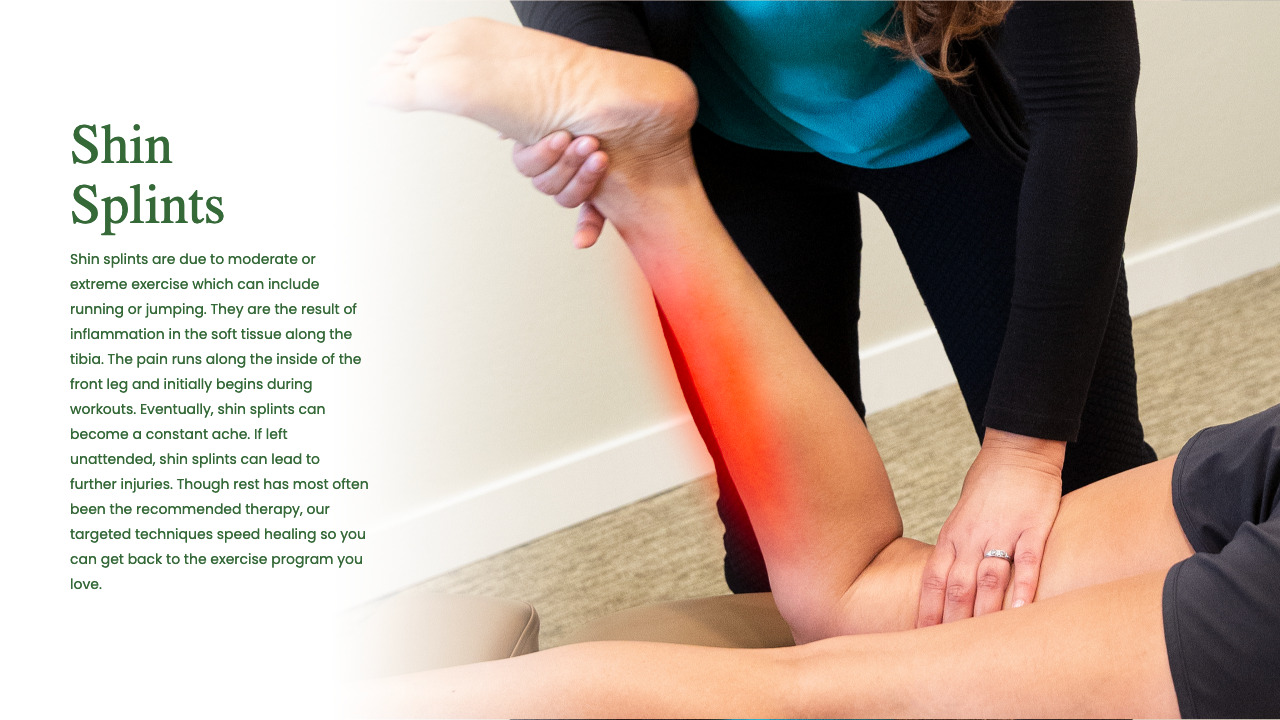 Shin Splints
Shin splints are due to moderate or extreme exercise which can include running or jumping. They are the result of inflammation in the soft tissue along the tibia. The pain runs along the inside of the front leg and initially begins during workouts. Eventually, shin splints can become a constant ache. If left unattended, shin splints can lead to further injuries. Though rest has most often been the recommended therapy, our targeted techniques speed healing so you can get back to the exercise program you love.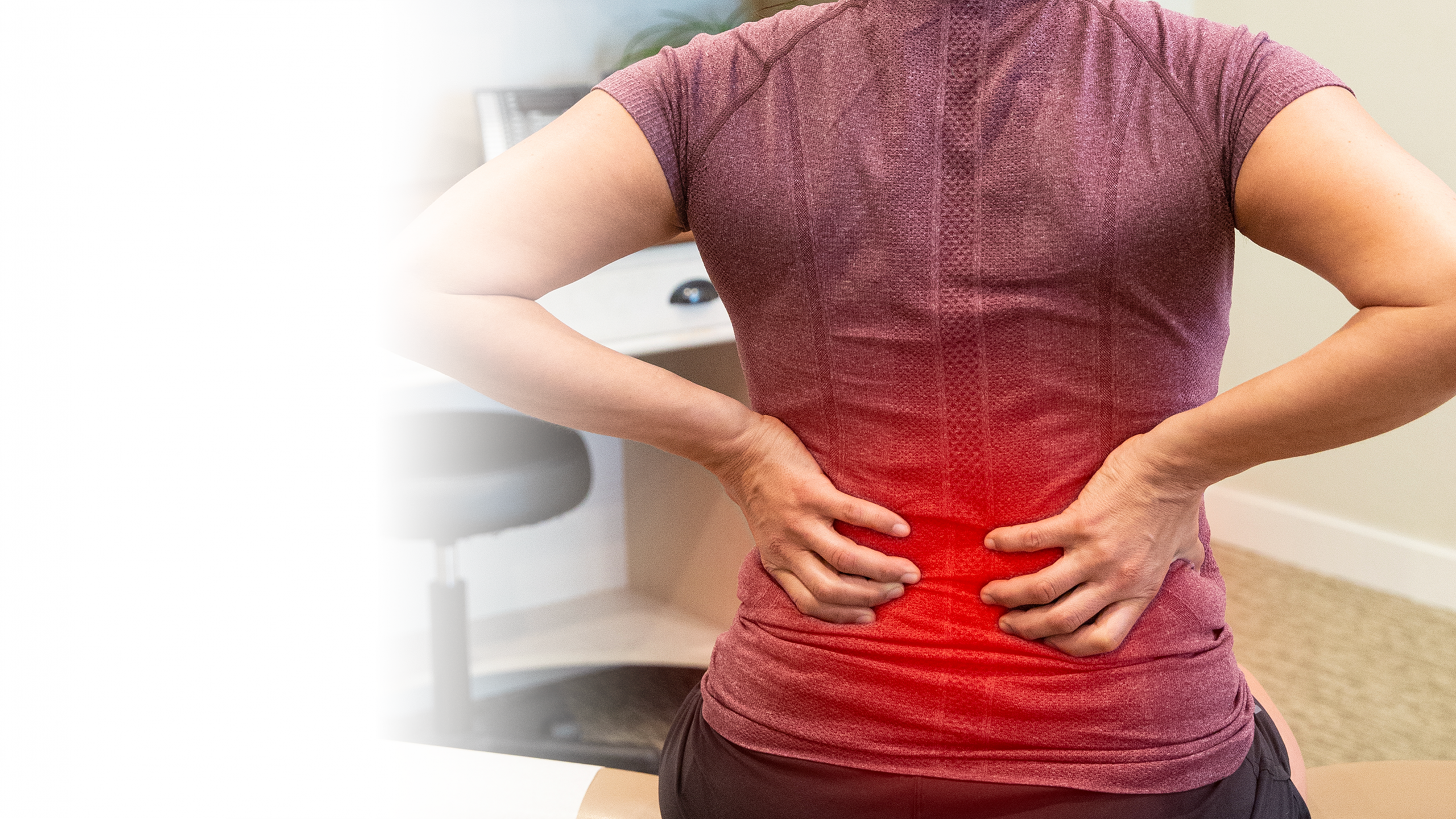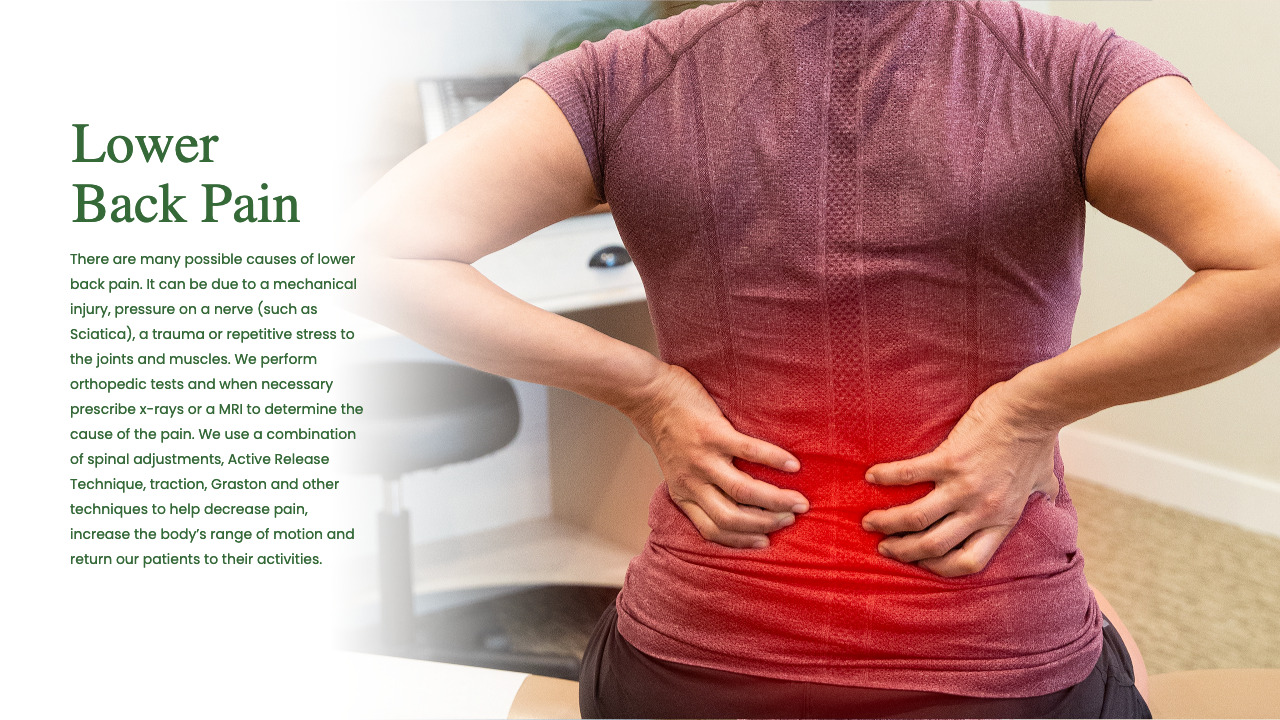 Lower Back Pain
There are many possible causes of lower back pain. It can be due to a mechanical injury, pressure on a nerve (such as Sciatica), a trauma or repetitive stress to the joints and muscles. We perform orthopedic tests and when necessary prescribe x-rays or a MRI to determine the cause of the pain. We use a combination of spinal adjustments, Active Release Technique, traction, Graston and other techniques to help decrease pain, increase the body's range of motion and return our patients to their activities.
Common injuries we treat:
Thanks to Dr. Gina and her STRONG hands, I get to play and run and hike and bike and swim and walk and work pain-free. She not only takes great care of me physically but also helps me learn how best to care for my body. I work it hard, and she works hard to keep me going. I have had critical injuries and ongoing injuries and she never fails to treat me quickly. I drive ALL THE WAY FROM Santa Cruz to see her; I can't imagine seeing anyone else. #gratefulfordrgina"

"Before seeing Dr. Bianchi I was bouncing from chiropractor to chiropractor. Some were great at times but never consistent in taking care of me throughout my athletic endeavors. I tend to do triathlons and anything else that sounds fun. After I started to include Dr. Bianchi into my rotation of caregivers, I noticed that I was not seeing my other providers. She took excellent care of me with whatever my training injuries threw at her. Not only have I had better care through her application of Chiropractic, Graston, and Active Release Therapies, I have been able to train harder, go faster and do more. Thank you Dr. Bianchi!"

"Dr. Gina has been my go-to relief for any kind of running/biking-associated pain for the past 5 years. From shin splints, to pulled leg muscles, to tight neck muscles, to pregnancy pain, Dr. Gina has worked her magic! While I have seen her for the usual kind of runner injuries, I think that the most relief has come while I have been pregnant. Dr. Gina has worked on adjusting my back, my neck and taping up my belly which has alleviated back pain problems. Dr. Gina doesn't MAKE you come back for more treatments, or make you feel like you HAVE to see her regularly. She definitely makes a point to make it all about listening to your body and coming in to see her when you need it."

"I have been seeing Dr. Bianchi for ten years to great success. I first had runners knee and was being treated by O'Connor Hospital sports medicine. After 16 weeks of PT, my knee was only 50% better. A friend recommend Dr. Bianchi; after 3 visits my knee was fixed!! After shattering my clavicle, I again returned to Dr. Bianchi to work on recovering my range of motion. Within 6 months of my bones mending, I finished Ironman Coeur d'alene thanks to Dr. Bianchi's help. My latest injury, bulging L4-L5 that is touching my spinal cord, has also required Dr. Bianchi's help. By working my core and back, I can see major weekly improvements and will most likely be able to race again in a few weeks!"

"Dr. Bianchi has been an absolute blessing for me. I am very active and play competitive sports year-round. She has helped me work through many injuries so I can compete at a peak level. Dr. Bianchi easily understands my problems and helps me get my confidence back to head back to the field."